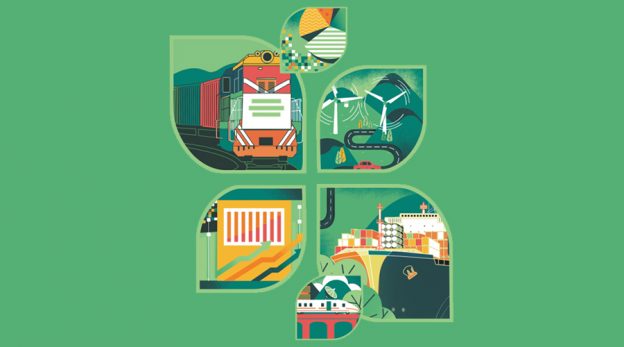 Developing countries are going toward a low-carbon, resilient and inclusive development through BRI cooperation
At the third Belt and Road Forum for International Cooperation held in Beijing on Oct 17 and 18, conducting practical investment cooperation, promoting green development and strengthening international cooperation mechanisms were three of the eight actions that were considered vis-a-vis shared development in the next decade, driven by the Belt and Road Initiative. This serves as a continued role of supporting developing countries to achieve green, low-carbon and climate resilient growth in the critical decade.
Managing climate risk and promoting financing for low-carbon and climate-resilient areas are critical for developing countries to achieve sustainable development goals in the decade ahead.
Most Belt and Road countries are developing countries, which are highly vulnerable to climate change. They have limited resources and capacity for climate risks assessment, early warning, and planning such as formulating National Adaptation Plans. This makes it challenging for them to estimate the financial, technical demand for international financial support. Providing technical, financial, and social support is critical for their green, low-carbon, resilient and inclusive development.
The confluence of global crises and lack of financial support exacerbate the challenges faced by developing countries in addressing climate change and achieving sustainable development goals. According to the United Nations Environment Programme, the estimated financial needs for climate adaptation alone can reach $71 billion annually by 2030. Additionally, while global climate finance and investment have increased in recent years, 71 percent of public climate finance is provided as loans rather than grants. This could potentially increase the debt burden of developing countries. In 2021, 27.5 percent of low- and middle-income countries' budgets were spent on debt service, which was twice the amount spent on education, four times that on health and nearly 12 times that on social protection.
The BRI, launched in 2013, has been playing an important role in promoting South-South cooperation with developing countries based on their national circumstances and demands. Over the past decade, the BRI has mobilized $1 trillion of investments globally, supported more than 3,000 projects and created over 420,000 jobs for participating countries. The BRI is committed to open, green, and clean cooperation toward inclusive and sustainable development, and cooperation under the BRI should be people-centered and conducive to improving people's livelihood. In addition to the construction of infrastructure, China launches small-scale yet impactful projects through foreign aid, benefiting people's lives. By 2030, the BRI is expected to increase global real income by 0.7 percent to 2.9 percent, lifting 7.6 million people out of extreme poverty (those earning less than $1.9/day) and 32 million people out of moderate poverty (those earning less than $3.2/day).
During the third Belt and Road forum, 369 practical collaboration projects prioritizing renewable energy development, financial cooperation and livelihood improvement were signed. The China Development Bank and the Export-Import Bank of China will each set up a 350-billion-yuan ($47.85 billion) financing window. An additional 80 billion yuan will be injected into the Silk Road Fund and 1,000 small-scale livelihood assistance projects will be carried out. In the next decade, to tackle climate change and biodiversity losses, and to improve resilience and sustainability, the BRI can further help developing countries in areas of renewable energies, energy efficiency, climate adaptation, and green finance, with a development perspective.
Investment in renewable energy, especially in small-scale yet impactful projects such as decentralized renewable energy solutions, needs to be increased. Southeast Asia, Central Asia and Africa are all rich in solar and wind energy resources, and have high requirements for livelihood improvement. Renewables could translate investments in electricity connections into higher incomes, local jobs, greater adaptive capacity and overall well-being. Achieving such change requires not only the deployment of decentralized systems, but also the improvement of the policy, financing, capacity and skills, and market access.
The improvement of energy efficiency in BRI developing countries needs to be prioritized. BRI countries consumed about 50 percent of the world's total energy but produced 30 percent of the global GDP. The BRI can further strengthen knowledge sharing on ecological and environmental policies, enhance industrial-capacity cooperation mechanisms and platforms and promote investment in technological advancements to improve energy efficiency.
South-South cooperation on building climate resilience needs to be further deepened. The Beijing Declaration released at the Belt and Road Ministerial Forum for International Cooperation in Disaster Risk Reduction and Emergency Management stated that China would, together with other countries, "reinforce disaster prevention measures and scale up effective early warning systems, strengthen the monitoring and early warning of disaster risks and translate into early action including for hard-toreach and remote populations". By strengthening the implementation of adaptation projects, dialogues, exchanges, and cooperation, and providing technology and supplies, China can help developing countries enhance their climate adaptation capacity, thereby helping them with the formulation of National Adaptation Plans.
Policy exchanges and investment cooperation in green finance needs to be accelerated. The BRI can deepen knowledge sharing on green finance policies, standards, incentives, and financial innovation with stakeholders of participating countries, and jointly develop information disclosure and public participation tools; carry out cooperation on harmonizing the common standards of green finance and transition finance; and provide capacity building for financial institutions, project developers and relevant authorities.
An enabling environment for high-quality overseas investment needs to be improved. The BRI can strengthen and refine requirements for environmental, climate-related and nature-related risk management, further improve foreign investment grievance redressal systems, and conduct climate benefits evaluation for overseas investment, combined with incentives to encourage low-carbon and climateresilient overseas investment.
---
This article was first released in China Daily​
Cover|CD